About Chris Phillips Music.com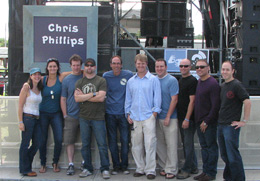 I've been playing guitar and singing now for over 14 years in and around New England. The first 10 of those years were primarily done in the context of original music. The band was called Pretty Cool Chair. We cut two well produced albums. The first was recorded at an incredible studio in Woodstock, New York called "Nevessa". John Sebastian sat in and lent his talents to one of the tracks. For those of you who don't know John Sebastian he had some major hits in the 1960's such as "What A Day For A DayDream", "Hot Town Summer In The City", and "Darl'n Be Home Soon". He even played at Woodstock back then! Well, the Pretty Cool Chair days were a lot of fun. After that era came to an end I started getting a lot of fulfillment playing other peoples music for once. Yeah, "covers". Turns out you can learn quite a bit from learning new music that isn't your own.
So here I am these days keeping the party going by playing clubs, private parties, weddings and corporate events as both a soloist and an acoustic duo/trio either with other acoustic guitarists (Berklee alum Stephen Lamb and/or Rob Perry) or Berklee violinist Sarah Gaut Sarah Gaut. The clothing retailer and all around spreader of good vibes "Life Is Good" has flown me out to Salt Lake City to play for their annual Outdoor Retailer Trade Show out there. Since then I've had many shows and good times with the LIG crew including headlining for 30,000 plus for PumpkinFest on the Boston Common. I also have performed for 92.9FM WBOS Boston for their WBOS Music On The Mountain series opening up for their national acts at various ski resorts for the past two winters.
Some of my past and present clientelle include: Life Is Good inc., 92.9FM WBOS, Boston Odyssee Cruise Line, Longwood Events / Belle Mer, Liberty Clipper Cruises, Marriot Hotels, Duxbury Bay Maritime Academy, St. Marks Academy, Peppers Fine Foods Catering, Green Olive Catering, Griffin Museum of Photography, Moakley Courthouse, Craig Sutton Entertainment, Entertainment Specialists, Mansfield Entertainment and many others
Please feel free to check out the songs I've uploaded to the site in both audio and video (ie. YouTube) format. Or better yet, come out to gig to see for yourself! Give me a call or shoot me an email for more information.
Thank you for your interest! Christian Phillips